ArticleGPT
Create
Hallucination-Free

,

Fact-Based

, and

SEO-Friendly

Articles Our AI Article Writer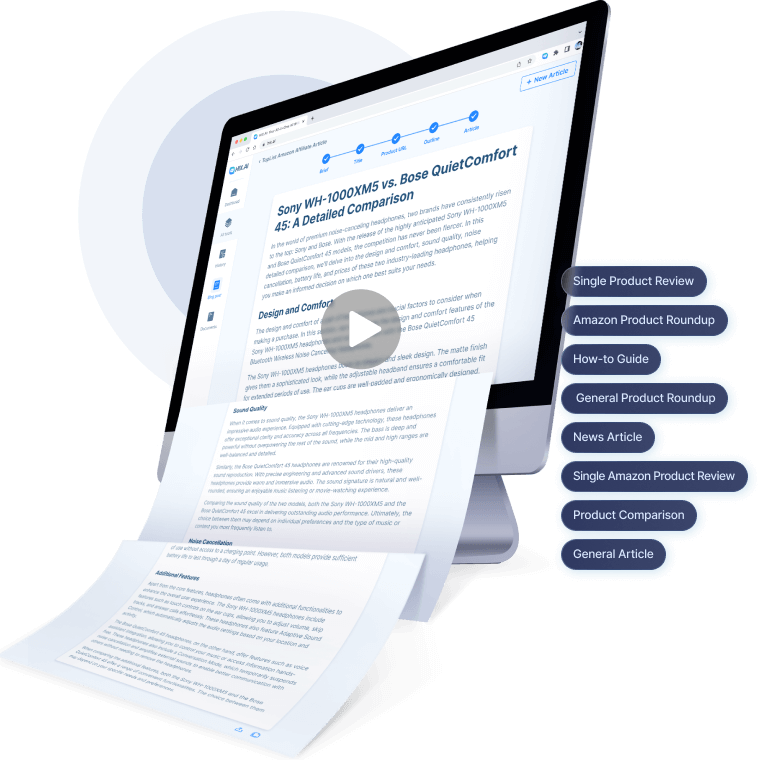 Stop Using ChatGPT!
Try ArticleGPT for
Fact-Based Article Writing!
Say goodbye to the AI-generated articles that are error-filled and hard to rank high!
HIX.AI's ArticleGPT instantly creates hallucination-free, fact-based, and SEO-friendly articles backed by credible references, and optimizes the content for search engines using your target keywords appropriately throughout.
Generate fact-based articles for free
Why Trust ArticleGPT?
We're an SEO expert who knows what it takes to drive traffic! Take a look at the chart below and you'll see that our traffic has been steadily climbing. We know what great SEO looks like and how to apply it to articles. Leveraging our expertise, we have created ArticleGPT, a blog content generator designed to generate consistently impactful, SEO-optimized content that excels in today's digital landscape.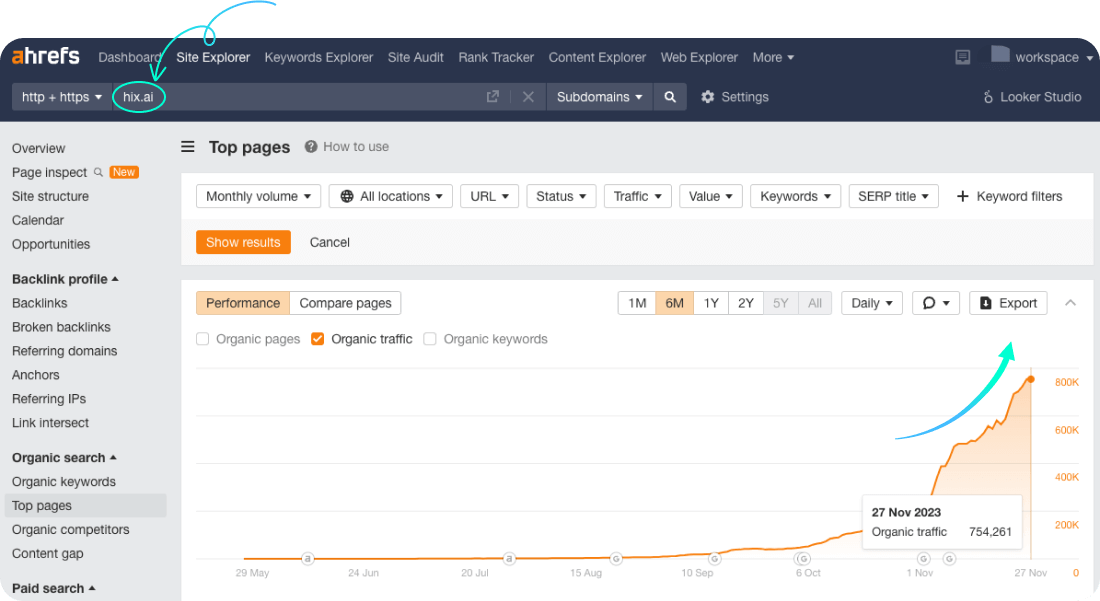 Write SEO-friendly articles for free
Hallucination-Free, Fact-Checked Content
Hallucination-Free AI Article Writing
Generative AI models like ChatGPT are accused of generating hallucinating and false content. Trained by Large Language Models (LLMs), they rely on pattern recognition to predict content based on probability rather than accuracy.
ArticleGPT uses sourced content to eliminate confusing AI hallucinations and generate 100% fact-based articles backed by credible references. You can add any reference articles to ensure the most factually accurate, hallucination-free results.
Reference Sources Customizable
We understand each article needs its unique reference sources, so we make reference selection fully flexible in your article creation process. You can select your preferred webpages, or upload your own documents for ArticleGPT to cite from.
Updated Information
ArticleGPT's dataset is not limited to pre-2022. You can count on us to generate articles, news stories, and more using up-to-date information. Always be confident that the details in your article will match the current events.
Backed by Credible, Real-Time Online Sources
With ArticleGPT's extensive access to online resources, you can easily include credible and up-to-date details in your article. We can scrape information from:
Amazon

Wikipedia

Major media outlets

Google News

Review platforms like G2, Capterra

And a lot more!
Craft factual articles 10x faster
Write a Reliable Blog Post in 5 Quick Steps
1
Provide Brief
Select the type of article you want and choose the tone, word count, topic, POV, target audience, language, etc. for your articles.
2
Choose References
Choose the your preferred reference sources from the search results of your target keyword, or upload the documents you want us to refer to for your article.
3
Generate Outline
We will generate a title and an outline according to your brief and references, and you can modify the title, and the outline's structure and headings for your needs.
4
Start Generation
Once you're satisfied with the outline, click the Generate button and your article will be ready in a flash.
5
Export Article
You can edit and export the generated article to a local Word/PDF document file, Google Docs, or WordPress.

First AI Article Writer Able to Handle
8 Highly-Demanded

Article Types

While other AI writing tools on the market have their own approach to content creation, we believe there is no one-size-fits-all article type. Relying on the same format for every article can inevitably lead to subpar writing.

That is why we uniquely categorize articles into 8 different types, each having its own tailored template. We've determined this the most methodological way to generate fact-based, customizable, and high-quality articles that provide values to your readers.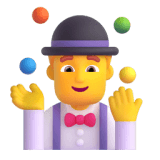 Additional Key Features of Our Blog Generator
One-Click Mode

Streamline the article writing process with One-Click Mode. Describe your topics, add keywords, and watch as your article is generated with a click of a button.

High-Quality Mode

Elevate your content with High-Quality Mode. Incorporate references, create a title, develop an outline, and allow ArticleGPT to craft a high-quality, customized article that aligns with your specific content needs.

Built-In Grammar & Plagiarism Checker

ArticleGPT quickly and accurately identifies and resolves grammar mistakes and instances of plagiarism. Our convenient built-in grammar and plagiarism checker helps generate original, grammatically correct articles that appear professionally written.

Export & Share

Save time with our convenient export and share options found all in one place. Save your generated article directly to your device or share by link or on social media platforms like Facebook, Twitter, or LinkedIn.
A Versatile AI Article Writing Tool for All
Our AI article generator can help writers with varying backgrounds to create top-quality long articles quickly.
Bloggers

Our free unique article generator can help bloggers create regular quality long blog posts, saving lots of time and effort.

SEO Professionals

Our AI article writer is optimized for SEO professionals to produce search engine-friendly articles that can boost website rankings and traffic.

Content Marketers

Our AI article writer simplifies the marketers' process to write educational articles about your products or services, and help them create content that can drive sales.

Journalists

Journalists can write news articles that can keep up with emerging trends with our AI writing tools and improve their engagement and online presence.

Amazon Affiliates

ArticleGPT allows Amazon affiliates to create error-free reviews, product comparisons, and product roundups with your recommended Amazon products to drive sales.

Business Owners

Business owners can use our AI article writer to scale their businesses by streamlining their content creation processes.
Start for Free
Our AI Article Generator Breaks the Norm
| | |
| --- | --- |
| 🌟 Well-researched | Fact-based, up-to-date content |
| 📚 Custom references | Choose your own reference sources |
| 📝 Versatile | Capable of writing diverse articles |
| 📈 SEO-friendly | Optimized for search engines |
Other HIX.AI Tools That Can Also Enhance Your Long Article Writing
FAQs
Who can benefit from ArticleGPT?

Anyone who needs to write long articles in a short period of time can benefit from our long-form blog generator. Whether you're a blog owner, freelance writer, student, or journalist, you can use it to speed up your writing process and create captivating articles your readers will like.

How can ArticleGPT ensure my article is hallucination-free, fact-checked and trustworthy?

When composing articles, this free unique article generator uses advanced algorithms to obtain relevant and updated information from online resources and use it to ensure the trustworthiness of your content. So you'll know the content of your generated article is factually accurate.

Can I specify reference sources for my article?

Yes! Our blog content generator allows you to freely choose what resources to cite from for your articles. You can choose to refer to Amazon, major media outlets, and user review platforms like G2 and Capterra, so your article content can be relevant to your topic, reliable and fact-checked.

Is it possible to make sure the output fits my brand or style guidelines?

Yes it is! Our blog content generator allows you to specify your requirements and adjust the article outline before generating your article. With these steps, you'll be able to have articles generated that are right fit for your brand or consistent with your style guidelines.

Can I generate long articles in different languages?

Yes, you can! ArticleGPT is a free long-form AI writer that supports long article generation in 50+ languages. So you can create articles in the right tongue for your prospective readers.

Is it possible to publish articles generated by ArticleGPT to WordPress?

Yes, our SEO article generator allows you to export the articles generated to WordPress with a few simple clicks, as long as you connect your WordPress site to HIX.AI.

Is ArticleGPT a better choice than ChatGPT?

Yes. While ChatGPT is notorious for generating AI hallucinations, ArticleGPT prides itself on providing users with high-quality, factually accurate, and up-to-date content. While other platforms generate random text that may contain inaccurate information, this blog content generator is backed by credible sources.

How many articles can you generate using ArticleGPT?

The number of articles you can generate using ArticleGPT depends on your plan. With ArticleGPT's free plan, you can generate 1 article with GPT-3.5. With Pro, you can generate 10 articles with GPT-3.5 and 1 article with GPT-4. If you require additional volumes, consider our add-on article packages which start as low as $0.7 (GPT-3.5) and $1 (GPT-4) per article.

Experience Hallucination-Free Fact-Checked Article Writing with ArticleGPT
ArticleGPT is your go-to AI solution when you need articles that are factually accurate and backed by credible online sources. Start writing with confidence today!
Start for Free
No credit card required