Explore All Our Powerful AI Products

AI Writer
Create ANY Content in Seconds, Not Days
The most powerful AI writing generator that writes everything for you in a click.
End writer's block

Get a well-crafted, up-to-date, plagiarism-free blog post, ad copy, email & messages in mere seconds.

Over 120 AI tools

Refine your drafts to perfection with 120+ AI writing tools, from rewriting to summarizing and grammar checking.

Support 50+ languages

Craft or translate your ideas seamlessly in over 50+ languages. Spread your message globally.

Write 10x faster

Boost your productivity with limitless AI-generated inspiration, completing work in a fraction of the time.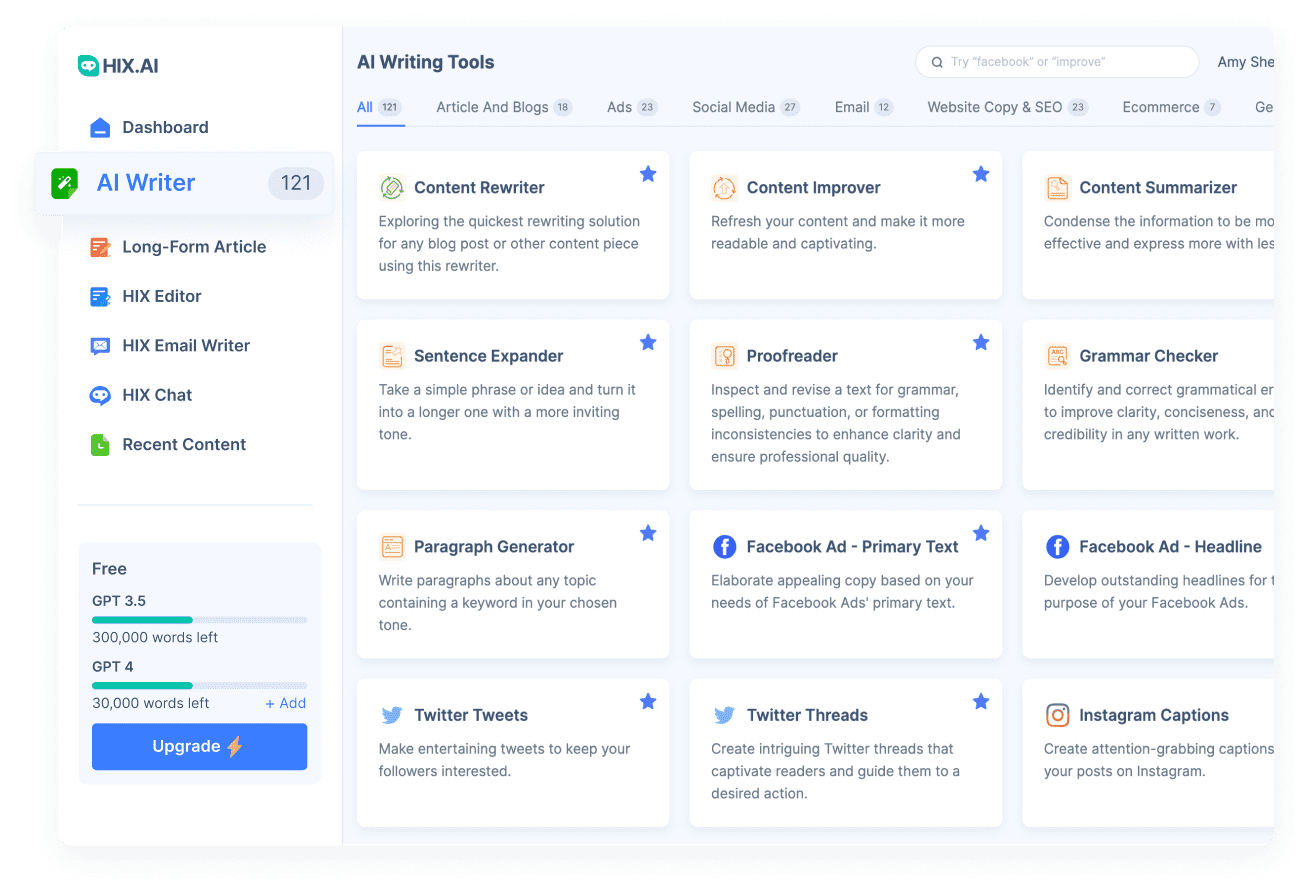 HIX Editor
Speed Up Your Content Workflow
Simply type // to access AI assistance within our AI text editor.
One place for writing & editing needs

Seamlessly write, rewrite, edit, and export your content in one place, with 120+ AI writing tools always ready to help.

A better Notion AI alternative

HIX.AI outperforms Notion AI with more AI writing capabilities, seamless integration across platforms, and an advanced chatbot.

Easy & quick

Just type // to call out our AI assistance on demand. Save hours of inefficient busywork.

Stay productive on the go

Save your draft as a document and access it wherever you go. Pick up right where you left off across your laptop, phone, and tablet.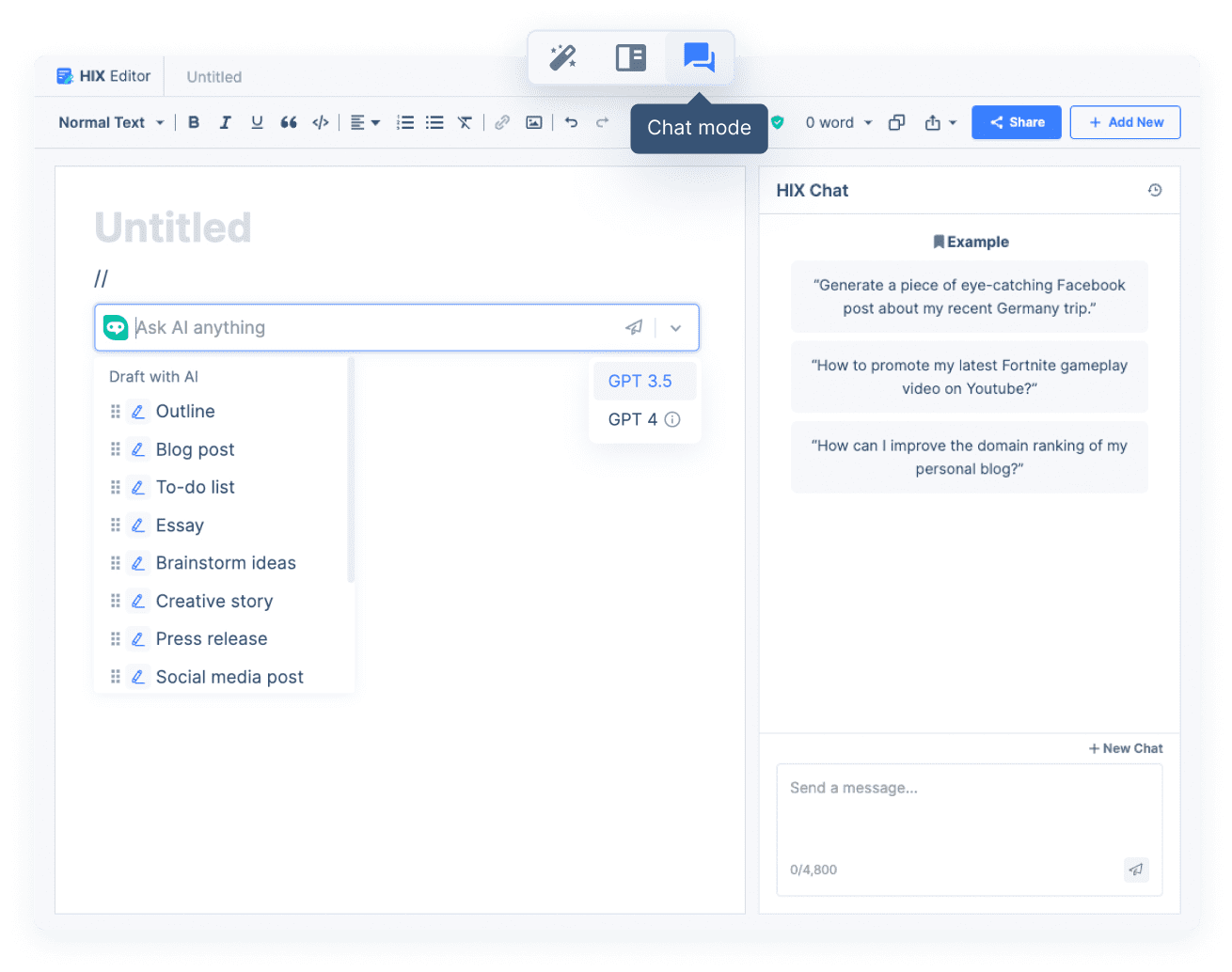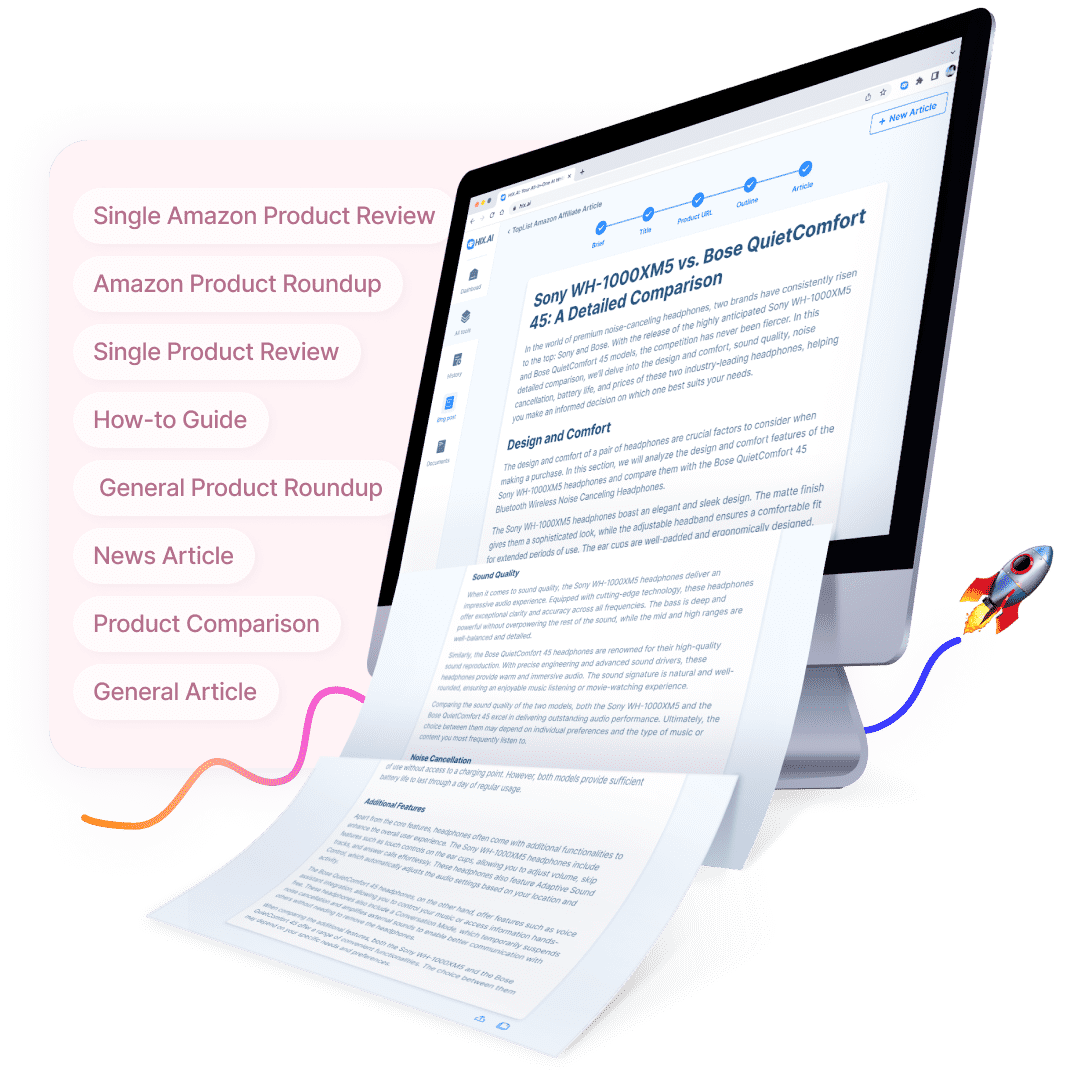 HIX ArticleGPT
Craft Fact-Based Blog Posts Instantly
Create fact-checked, up-to-date, and SEO-enhanced blog posts in record time.
Get factually accurate content

Write trustworthy, fact-based content with credible references. Get factually accurate articles you and your readers can rely on.

Include latest data and insights

Fuel your content with the latest information. We draw real-time insights from Google News for news articles, rely on up-to-date customer reviews for product reviews, and more.

Master every niche

Generate unmatched content on a variety of subjects in bulk.

Rank higher and drive more traffic

Drive increased traffic and engagement with search-ready, SEO-friendly AI blog content.

HIX Chat
The Most Intelligent AI Chatbot
It works just like ChatGPT, but BETTER!
Stay up-to-date effortlessly

Unlike ChatGPT, stuck in 2021, HIX Chat taps into the freshest data sources to generate credible content, answer questions, and more.

Summarize Youtube videos

Don't read the lengthy YouTube video yourself. Let our tool extract key points from the videos and provide an instant summary.

Chat with PDF

HIX Chat can process PDF documents and respond to any requirements you may have about the material.

Chat with webpage

Enter a webpage URL and prompt our chatbot to summarize, rewrite, translate, or take some action on the page's contents.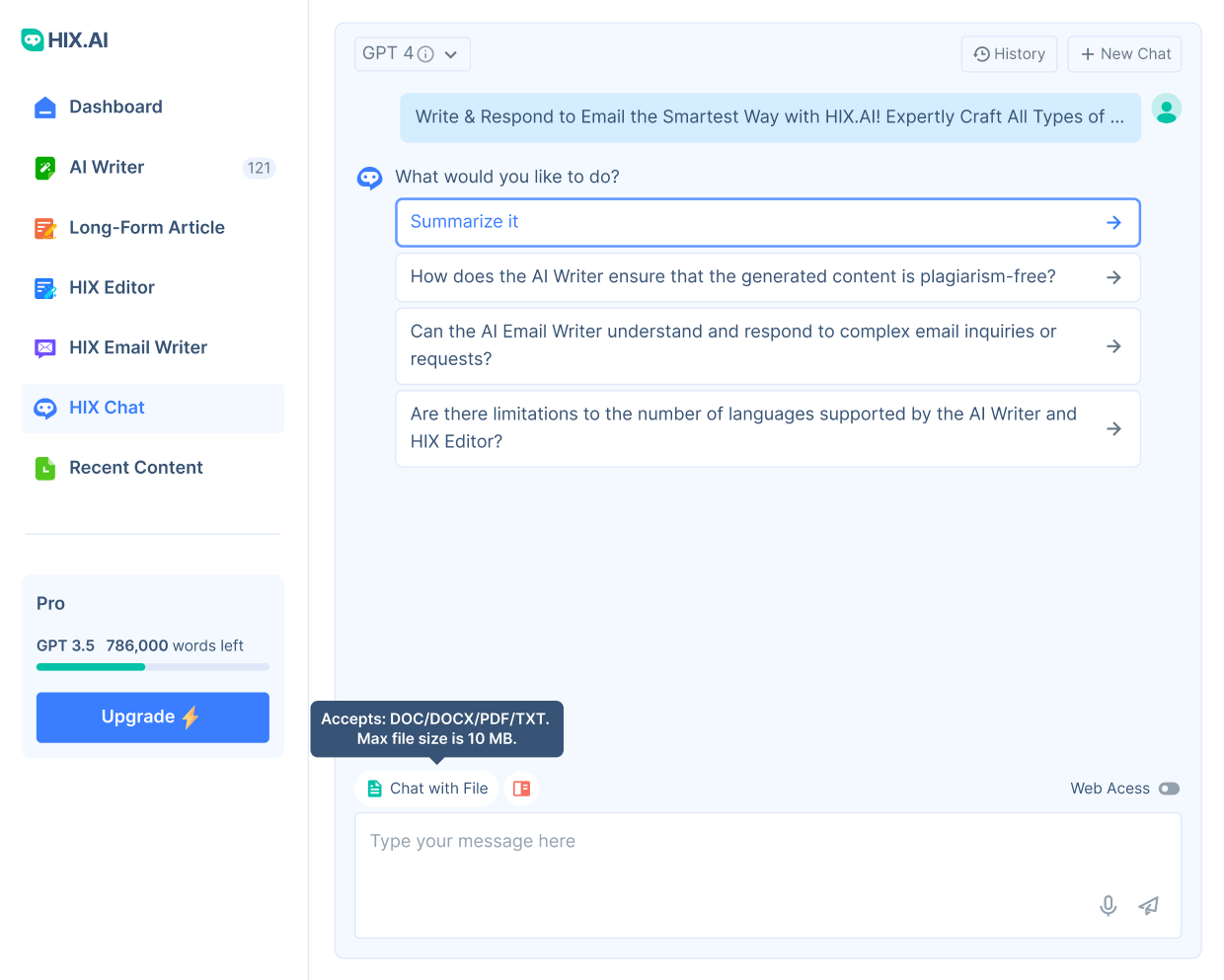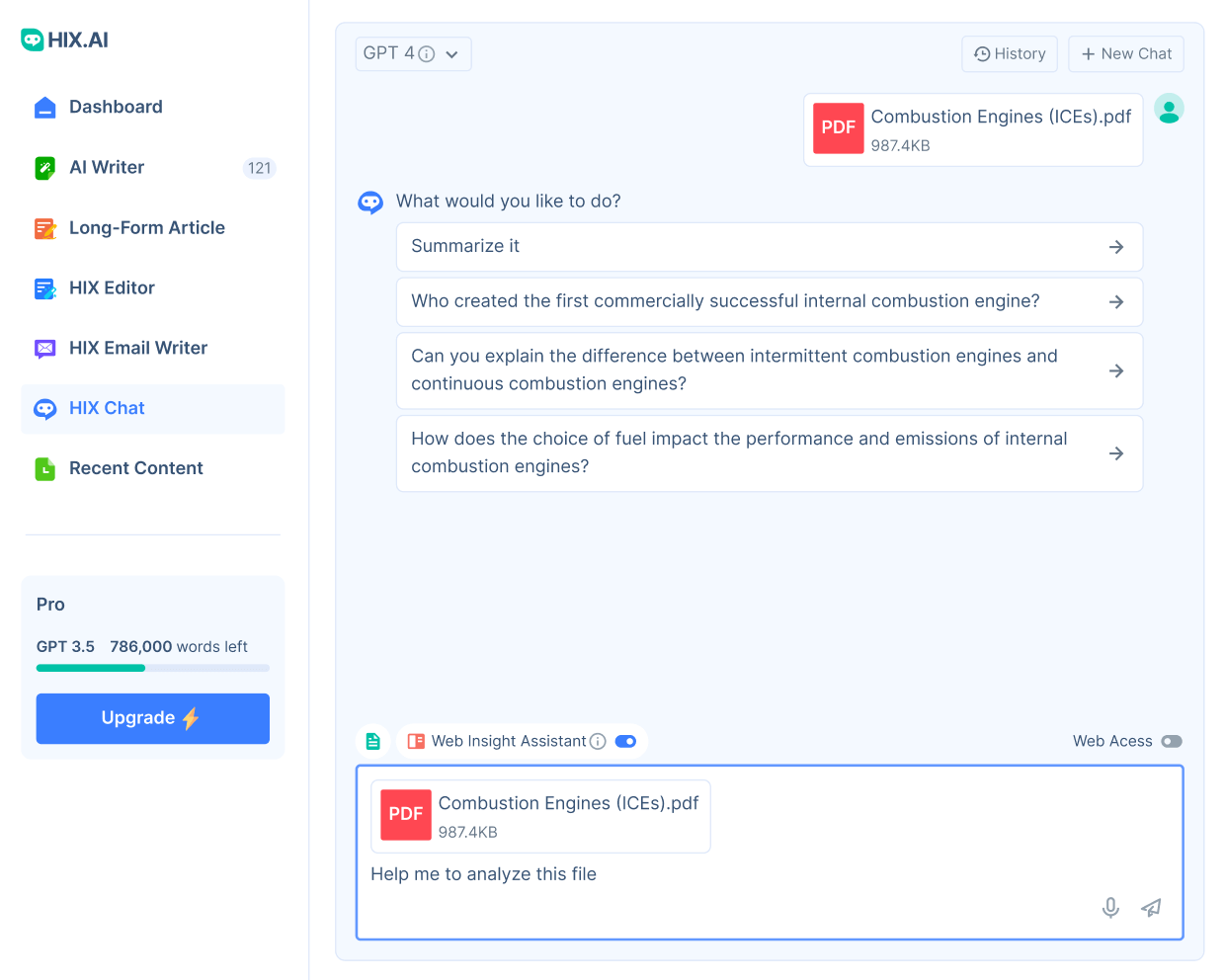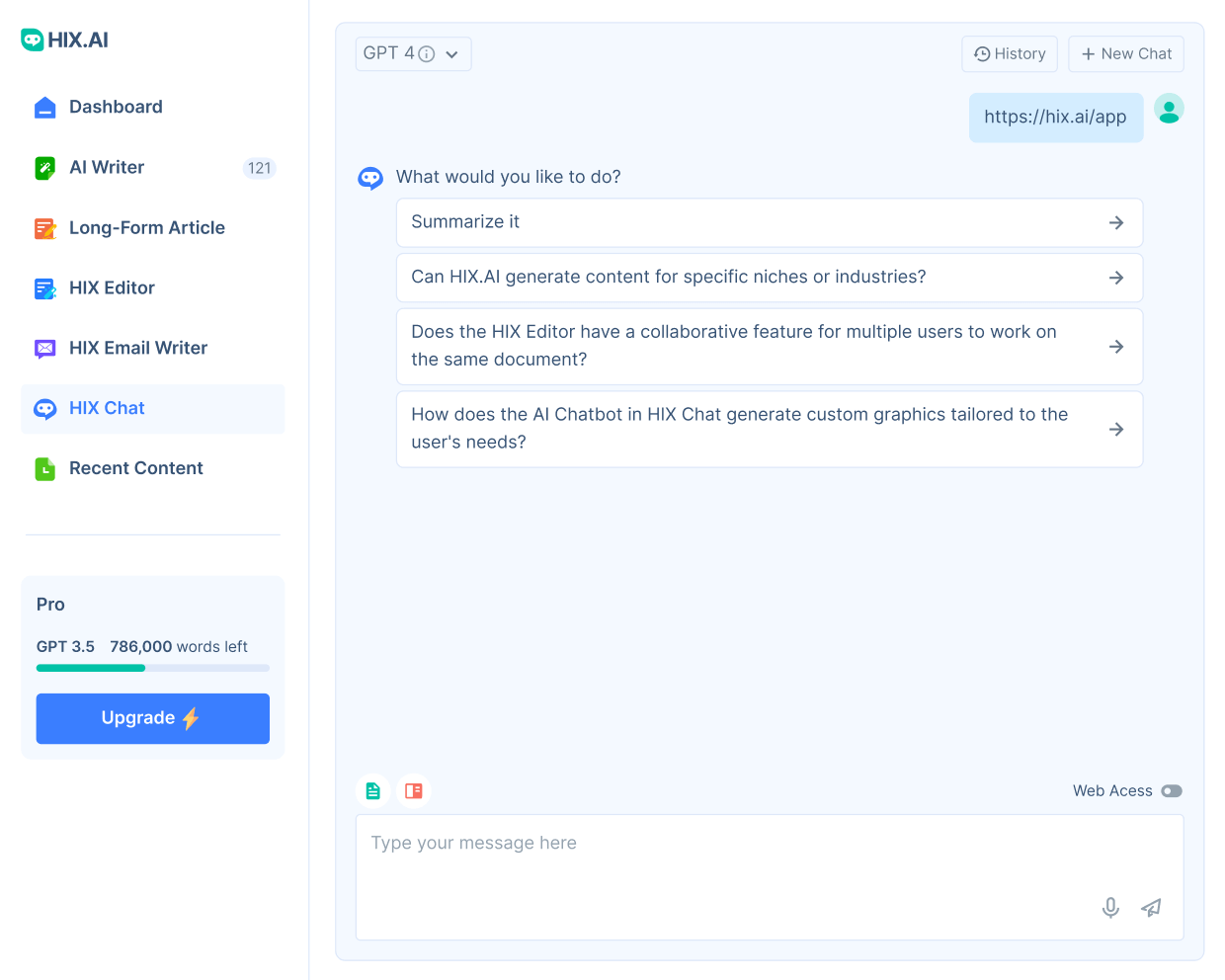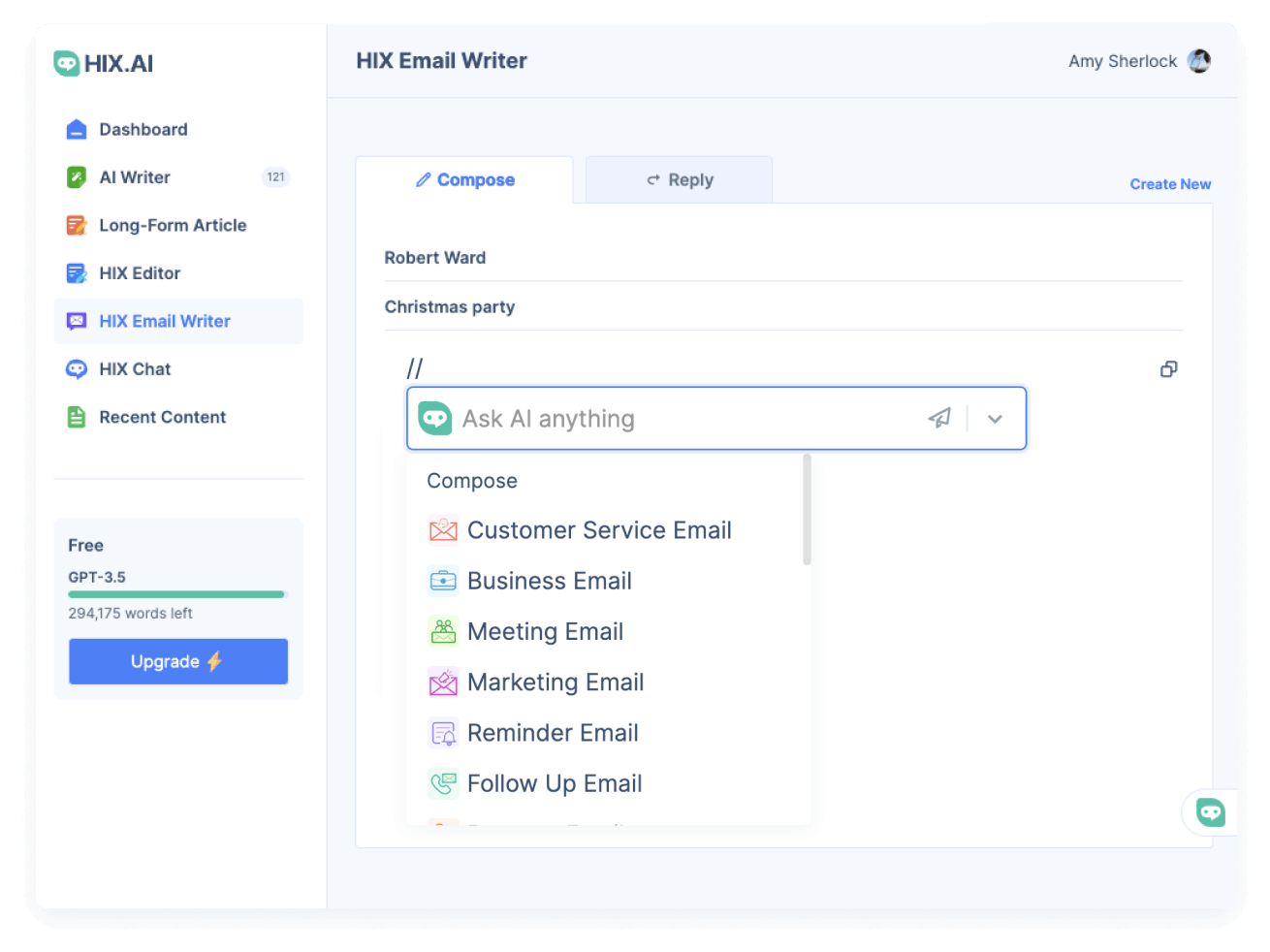 HIX Email Writer
Type // to Write Emails & Replies in Seconds
Compose emails and respond to emails at the click of a button.
Draft email content effortlessly

Just type // and watch as our AI crafts personalized emails & responses tailored to your needs.

Level up your email marketing

Write more engaging emails for any campaign. Improve your open and click-through rates and generate more leads.

Simplify email summarization

Summarize long emails in a snap, so you can quickly get the gist of the conversation.

Wide availability

Available through our web app and Chrome extension. Enjoy maximum flexibility & convenience.

HIX.AI All-in-One ChatGPT Chrome Extension
Bring HIX.AI to Wherever You Write & Work
Tap into our AI toolkit for new ideas, phrases, suggestions, and more as you write in Google Docs with the HIX.AI ChatGPT extension for Google Docs.

Add to Chrome - It's Free
Explore Our All-in-One Extension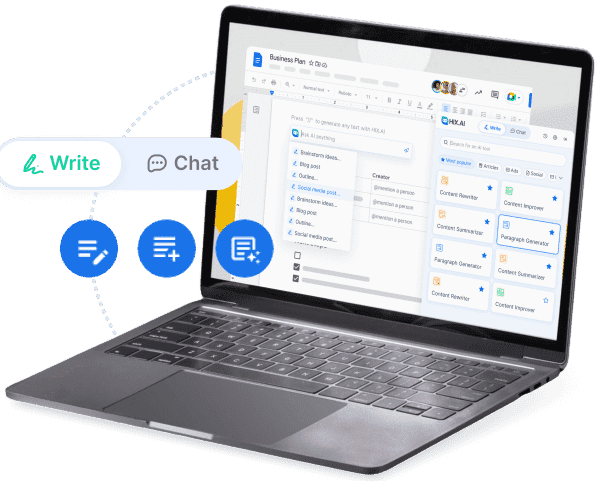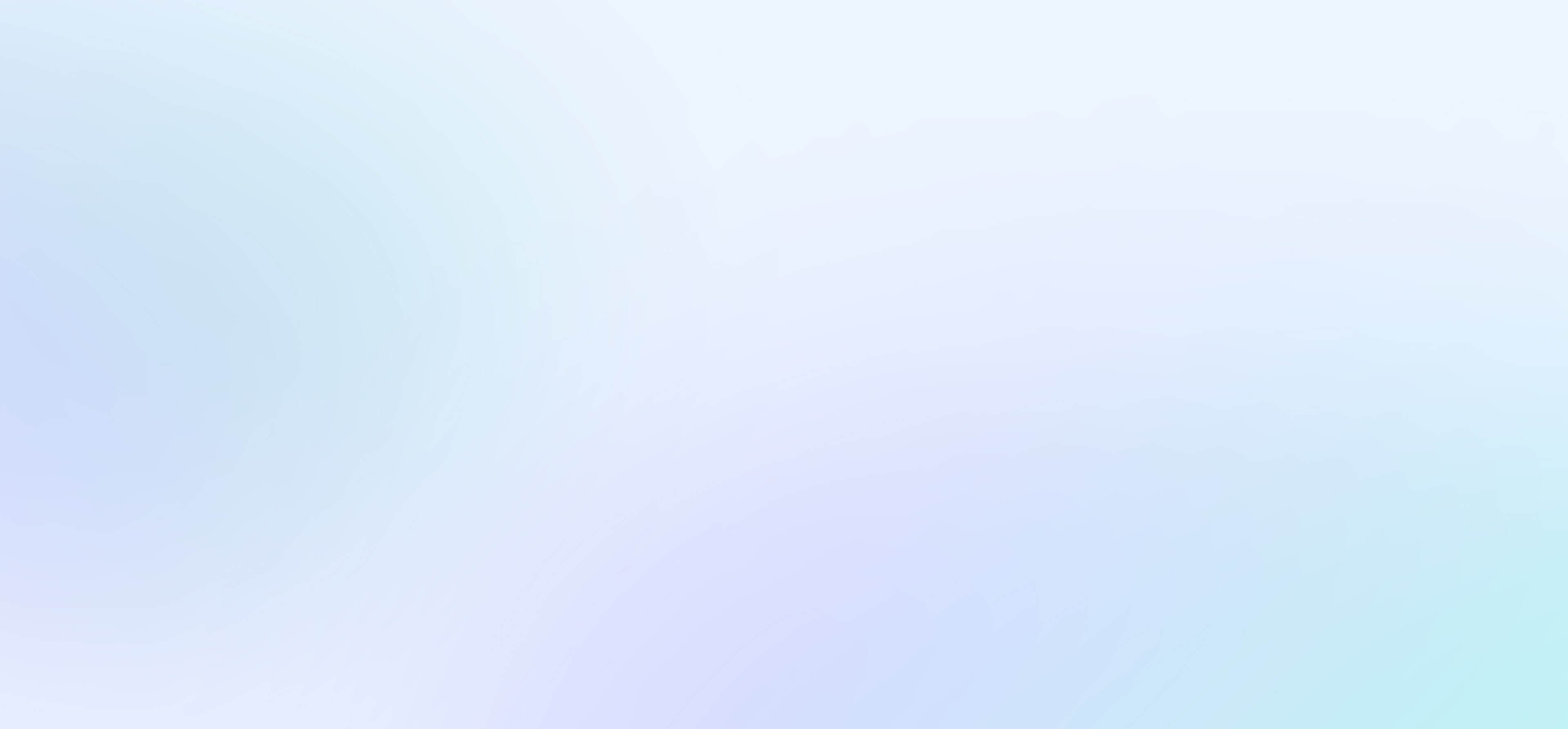 Plans & Pricing for All Budgets
Free

120+ AI Writing Tools

HIX Chat (ChatGPT-like chatbot)

HIX Editor (Notion AI-like editor)

AI Email Writer

Grammar Checker

Browser Extension

30+ Languages

Save 33%

Basic

300,000 words (GPT-3.5)

10,000 words (GPT-4)

Everything in Free, plus

Chat with Documents

Chat with Webpages

1-Click Google Docs Export

1-Click WordPress Export

Test out Newest Features

Standard support

Save 33%

Pro

600,000 words (GPT-3.5)

20,000 words (GPT-4)

Everything in Basic, plus

ArticleGPT (Beta)

Article Rewriter

10,000 Plagiarism Check words

Priority support

Save 23%

Ultimate

UNLIMITED

words (GPT-3.5)

50,000 words (GPT-4)

Everything in Pro, plus

20,000 Plagiarism Check words
Upgrade Your Content Game & Save Money
Writer's block getting in the way again? Whether you want to create a high-converting landing page, an insightful blog post, or a compelling market copy, HIX.AI is here to help you all, in less time and at fewer costs.
Start for Free