Best ChatGPT for Google Alternative to Create AI Content
As an excellent QuillBot replacement, HIX.AI offers better paraphrase quality than QuillBot. In addition, HIX.AI provides more powerful lighting features than QuillBot for content creation and editing.
Start for Free
| | | |
| --- | --- | --- |
|   | HIX.AI | QuillBot |
| Pricing | $4.99-$199.99/mo | $8.33 ~ $19.95/月 |
| Language Model | GPT-3.5/4 | 不特定 |
| AI Writing Tools | 120+ | 6 |
| Supported Languages | 50+ | 23 |
| Article Rewriter |   |   |
| Video to Article |   |   |
| Paraphrasing Tool |   |   |
| Brand Voice |   |   |
| Bulk Processing |   |   |
|   |   |   |
| Long-Form Article Writer |   |   |
| Supported Article Types | 8 |   |
| Content Backed by Credible Resources | (Top Google Search Results, Google News, Amazon Product Pages, …) |   |
| SEO-Friendly Content Creation |   |   |
| Up-To-Date Content Creation | (Backed by up-to-date information online) |   |
|   |   |   |
| ChatGPT-Like Chatbot |   |   |
| Web Access |   |   |
| Image Generation |   |   |
| Accessibility | Accessible through web app & Chrome browser extension | Accessible through web app |
| Chat with PDF |   |   |
| YouTube Summarizer |   |   |
| Webpage Summarizer |   |   |
|   |   |   |
| AI Document Editor |   |   |
| Writing Modes | 3 (AI Mode, Chat Mode, Power Mode) |   |
| 1-Click Google Docs Export |   |   |
| 1-Click WordPress Export |   |   |
| Chatbot Assistance |   |   |
| AI Writing Templates | 120 |   |
| Integrated AI Availability | |   |
| Plagiarism Check |   |   |
| Grammarly Integration |   |   |
|   |   |   |
| All-in-One Browser Extension |   |   |
| Work in Chrome and Edge |   |   |
| Work in Social Media | (Twitter, Instagram, Facebook, Quora, Reddit, YouTube) |   |
| Work in Email | (Gmail) |   |
| Work in Google Docs |   |   |
| Search Engine Enhancement | (Google, Yahoo Search, DuckDuckGo, Naver, Baidu) |   |
| Quick Lookup Toolbar | (Translate, grammar check, longer, shorter, explain and more) |   |
| Browser Sidebar | (HIX.AI ChatGPT sidebar, a more versatile Bing Sidebar alternative) |   |
| Chatbot Integrated |   |   |
|   |   |   |
| AI Email Writer |   |   |
| Email Templates | 20+ |   |
| Summarize Emails |   |   |
| Suggest & Write Replies |   |   |
| Accessibility | Accessible through web app & browser extension |   |
| Tones of Voices | 13 |   |
| Supported Languages | 50+ |   |
|   |   |   |
Get Started Now
Why Is HIX.AI a Better Alternative to QuillBot?
Get the AI Toolset that Are Great for
All

of Your Writing Needs, Literally

These 120+ AI-backed tools for writing content don't only speed up your writing so it's 10 times faster but are ideal when you have to rewrite all of the content on your website in a matter of minutes.
A powerful tool able to generate copy for all uses, including social media posts, press releases, email copies, video scripts, and that's just the beginning.

With its AI tools, HIX.AI's features vary and include clarity improvements, copy improvements, article summaries, and more.

Get keyword-filled and duplication-free content to supercharge your ranking and supercharge traffic for anything you publish.

Confident to connect with international audiences thanks to HIX.AI's support for at least 50 output languages.
Get Started Now
Get Long-Form Content with
Ensured Trustworthiness and SEO-Friendliness
Stop put up with substandard content pumped out by ChatGPT and other AI writing tools! HIX.AI's ArticleGPT can provide fact-checked and plagiarism-free long articles that are tailored to cover your SEO needs. You will be sure that the piece you receive is well-researched, fact-checked and easy to rank high on search engines.
Better yet, ArticleGPT is the first, best, and most capable AI tool offering 8 types of articles most frequently asked for by affiliates, blog writers, and digital marketing professionals:
Amazon Product Roundups

Single Amazon Product Reviews

General Product Roundups

Single Product Reviews

How-to Guides

News Articles

Product Comparisons

General Articles
Get Started Now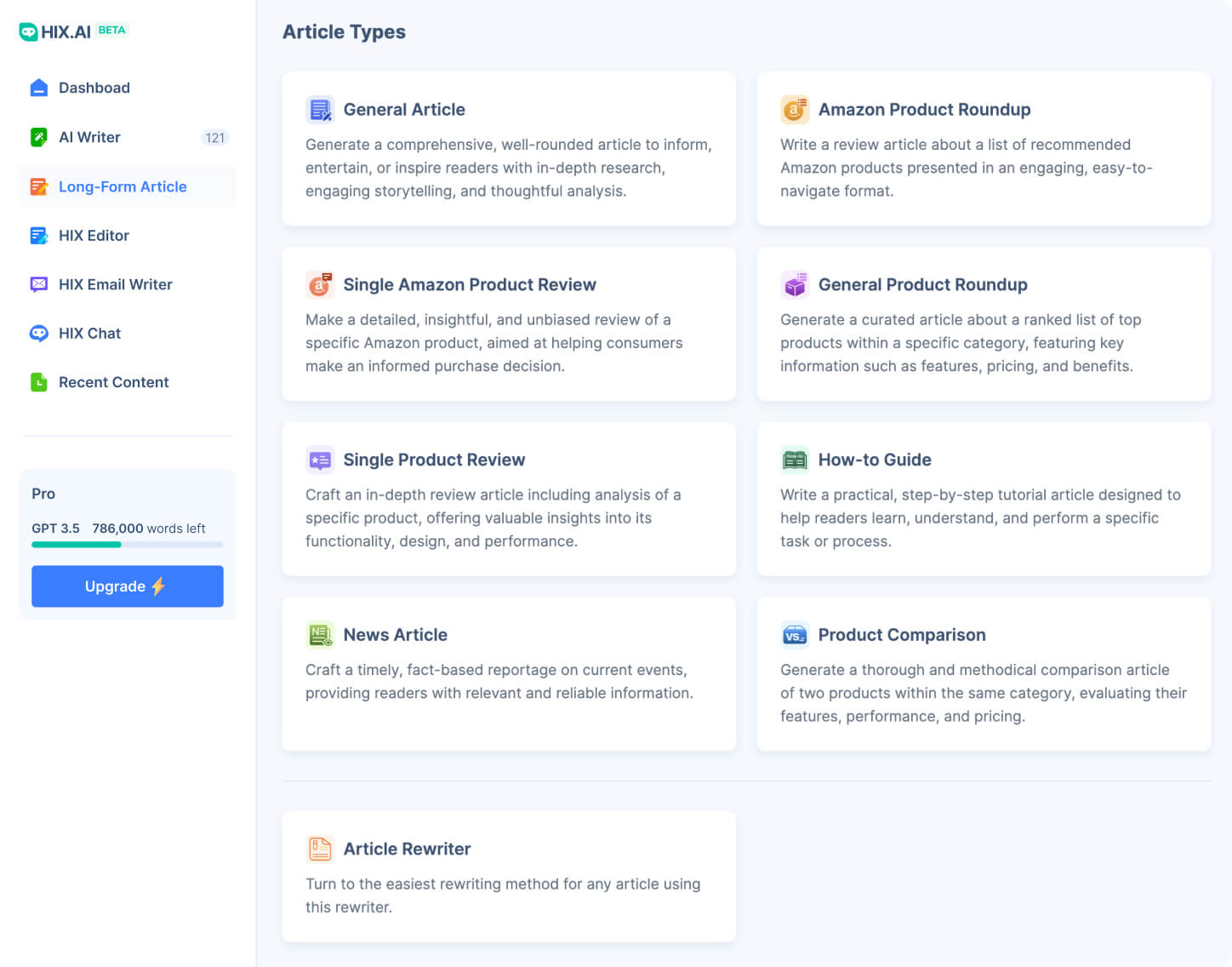 Type //

to Use the Dynamic AI-Fuelled Text Editor that Goes Beyond Notion AI

HIX Editor is an AI document editor that is a step above Notion AI in providing a comprehensive AI writing editor and assistant helping you to write, polish, configure, and export your content. Write content using three unique systems:
AI Mode: Simply type // to call out the lookup bar pre-loaded with AI tools, which is a Google Docs-like workspace powered by AI.

Chat Mode: When you need help to guide you as you write, our ChatGPT-like bot, HIX Chat, works alongside you from first word to last.

Power Mode: This gives you seamless access to more than 120 AI writing tools.

1-Click Google Docs Export

1-Click WordPress Export

Plagiarism Check

Grammarly Integration

SEO Score Audits
Get Started Now
Your Ideal Choice for an
AI Chatbot

That Is Better Priced and More Multipurpose Than ChatGPT

HIX Chat is a genuine alternative to ChatGPT. Backed by GPT-3.5/4, it provides you with fast and accurate AI assistance. Listed here are some of its features:
Correct responses and practical AI answers for multi-industry queries

Chrome extension and web app for ease of use

Capable of creating graphics

Acquires data from the most relevant online resources

Creates results based on PDF uploads

YouTube Summarizer

Chat with webpage
Get Started Now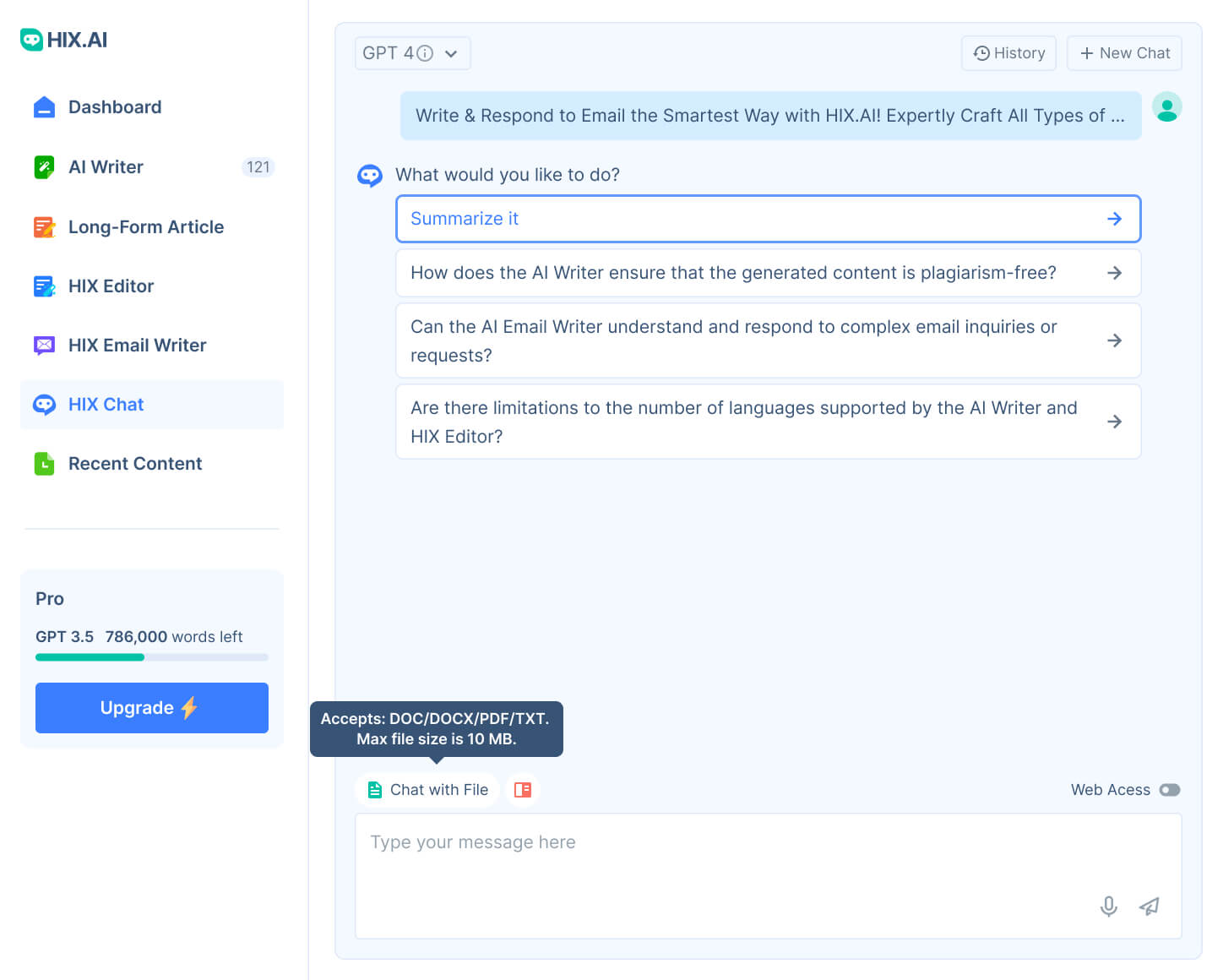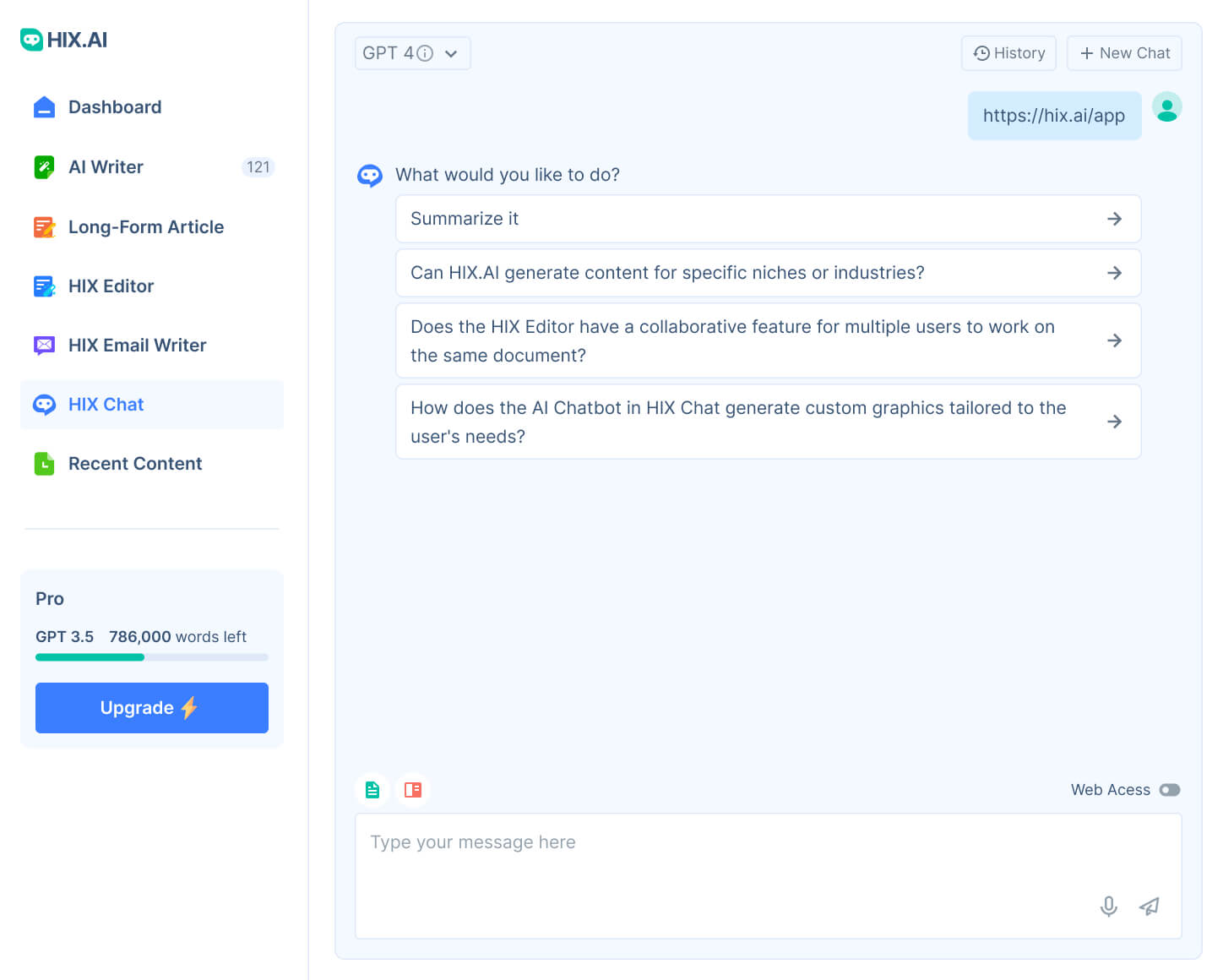 HIX.AI Chrome Extension:
The Most Intelligent, All-in-one ChatGPT Copilot for the Web
Our AI capabilities encompass your entire online journey. Thanks to HIX.AI ChatGPT Chrome extension, you can enjoy our AI help at any time, on any site on Chrome.
Add HIX.AI to Chrome - It's Free
For Google Docs
Type // to create high-quality articles, posts, and any type of writing with advanced AI technology in Google Docs.
Type //

to Unveil How HIX.AI's AI Email Writer Removes Stress From Your Life

HIX.AI's AI Email Writer creates a simpler workflow by drafting, summing up, and responding to emails making use of clever AI tools.
Simply type // to command HIX.AI Email Writer to create, simplify, or respond to emails

50+ language supported and 13 tones to create emails for any audience

Accessible interface with 20+ ready-to-use email templates that enables users to compose and reply with no fuss+

HIX.AI Chrome extension makes it easy to try this email writer in your preferred email client
Get Started Now
See How QuillBot Compares With Other Famous AI Writing Solutions
FAQs about QuillBot vs HIX.AI
What languages does QuillBot support?

The paraphrasing tool of QuillBot currently works in 23 languages. If you want a wider global reach, consider HIX.AI, which can support paraphrasing of text in over 30 languages.

What is the main difference between QuillBot and HIX.AI?

QuillBot is a paraphrasing tool with some other AI writing assisting capabilities, while HIX.AI is an all-in-one AI writing copilot offering more capabilities.

HIX.AI has a wide array of tools such as 120+ writing/editing tools (including a GPT-4 powered paraphrasing tool), long-form article writer, email writer, Notion AI-like editor, and chatbot. It also comes with a Chrome extension for you to type // to access its AI assistance when writing.

How does HIX.AI's paraphrasing tool compare to QuillBot?

HIX.AI offers a similar paraphrasing tool to QuillBot, but delivers better paraphrasing quality. More than just mechanical synonym replacements, HIX.AI is able to provide more appropriate word choices, clearer structures, and more coherent phrasing.

Can I use HIX.AI for free like I can with QuillBot?

Yes, HIX.AI offers a free plan that includes 3,000 words per month, with access to many of its advanced writing features. In contrast, QuillBot's free version has a limitation of 125 words for each paraphrase.