HIX Summarizer
Summarize Articles, Documents, and - Surprise! - even YouTube Videos, all in a Flash!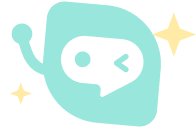 The Most Powerful Summarizer:
Summarize in One Click
HIX Summarizer turns lengthy, complex content into brief summaries with a single click, streamlining your research process, saving you time, and bringing you up to speed.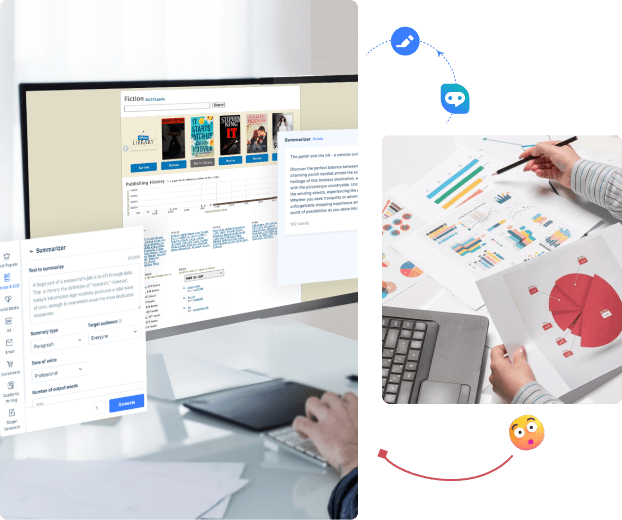 Summarize
All Types of Information

Quickly and Easily

Don't waste time reading lengthy content, let AI do the work. Our tool will quickly process information in 3 forms, enabling you to focus on what matters.
Direct copy-paste text, paragraphs, or articles

YouTube or webpage URLs

Documents like PDF, TXT, DOC
Summarize YouTube Videos

in an Instant

When you're pressed for time but still want a quick overview of what a YouTube video covers, let our summary generator do the watching for you and present just the essential details in a matter of seconds.

Get Started Now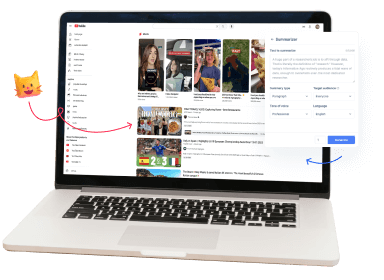 Summarize
the Way You Like It
Imagine having an assistant that doesn't just summarize, but tailors the summary to fit your exact needs. You decide the format that works best for you - concise bulleted lists or flowing paragraphs.
Get Started Now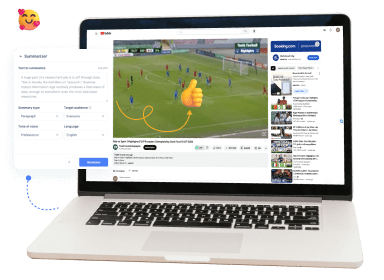 Summarize
Anytime, Anywhere
With the HIX.AI Chrome extension, you get access to our AI summarizing tool whenever and wherever you consume content online. Just select any text on a web page - a paragraph or an article - and generate an instant summary with a click.

Add to Chrome. It's Free
Learn More
How to

Summarize Online With HIX.AI?

Summarize an article, a document, or a Youtube video with HIX.AI is as easy as 123:
1

Just copy-paste your text, upload a document, or drop a URL of a webpage or Youtube video.

2

Specify whether you want the summary to be in paragraph or bullet point format.

3

Click on the 'Generate' button, and an instant, concise summary will be generated for you.
Why HIX Summarizer?
| | |
| --- | --- |
| 💨 Swift Summaries | Condense text instantly |
| 📑 Beyond Text | Video summaries supported |
| 🧩 Custom-Tailored | Summary based on your selected format |
| 👏 Summarize Easily | Paste text, upload documents or enter URLs |
FAQs
What is HIX Summarizer?

HIX Summarizer is the best AI summarizer and summary generator. This summarizing tool is able to extract important info from a passage of text, a PDF/Doc/TXT file, or a webpage instantly. It's not only an article summarizer, it can recap a Youtube video as well.

How do I use HIX Summarizer?

You have three main options to use HIX Summarizer for summarization: simply copy and paste text; upload a PDF, Doc or TXT file; or provide a URL for a web page or YouTube video. You can choose the generated summary to be a paragraph or in bullet point form.

How can an AI summarizer help me?

If you have a long, complex article or video but don't have time to read or watch the whole thing, an AI summarizer can be a lifesaver. It quickly pulls out the most important points, turning a lengthy piece into a short, easy-to-read summary. Plus, you can use this summary as a starting point to build your own content.

Which is the best AI summarizer?

HIX.AI is one of the best AI summary generators enabling you to summarize text, Youtube videos, PDF documents and more.