ChatGPT Chrome Extension
The Most Powerful, All-in-One ChatGPT Copilot for the Web
Install the HIX.AI Chrome extension to enjoy instant AI assistance for content writing, paraphrasing, grammar checking, and composing emails & replies - anytime and anywhere.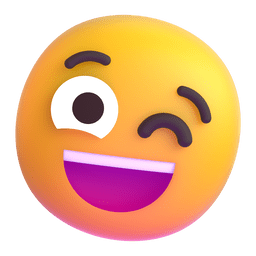 Type //

to Access HIX.AI Anywhere on Chrome

With the HIX.Al Chrome extension, every Al tool you rely upon stands ready to inspire & support you at any time, or any website, and within the tools you already use.

Type // to write and edit text, compose emails & replies, write social media posts & comments, and more.
HIX.AI Chrome Extension for
Google Docs
Type // to enjoy a game-changing Google Docs experience - write in Docs just like using Notion AI!
Draft 0% plagiarism and fresh content in real-time and improve your SEO game.

Stuck halfway through your document? Let us help you by seamlessly continuing your content right where you left off.

Power Mode: Benefit from our unique 120 tools that will improve your content, fix typos, and catch grammatical errors in no time.

Chat Mode: Chat with our AI-powered assistant whenever you need answers or inspiration.
Check Details
HIX.AI ChatGPT Extension for
Email
Type // to craft catchy subject lines, engaging emails, and personalized replies in a flash, saving you hours of work.
HIX.AI Quick Lookup Bar:

Your Anytime, Anywhere AI Assistant

Select any text anywhere online, and our quick lookup bar is instantly ready to rewrite, summarize, or translate on the fly, no matter if you're on Google Docs, Twitter, Gmail, or any other webpages.
HIX.AI ChatGPT Sidebar:
A Handy Bing Sidebar Alternative
Enjoy a Bing sidebar-like experience on your Chrome browser, with instant access to our all-round writing assistance and HIX Chat, a more powerful ChatGPT alternative.
Accessible anywhere on Chrome via the sidebar icon and the shortcut Ctrl/Cmd + P.
Rewriter, summarizer, expander and 120+ other writing tools available.
Offer instant writing help on major social media and email services.
Integrated with HIX Chat, a versatile chatbot that knows up-to-date knowledge.
Check Details
HIX.AI ChatGPT Extension for
Search Engines
Obtain accurate answers to your queries quickly, just right within your search engine interface. They zero in on the information you need, without wasting your time on unrelated results.
Google

Bing

Yahoo Search

DuckDuckGo

Naver

Baidu

Yandex
How to

Put HIX.AI to Work?

Here are 4 ways to use the HIX.AI Chrome extension.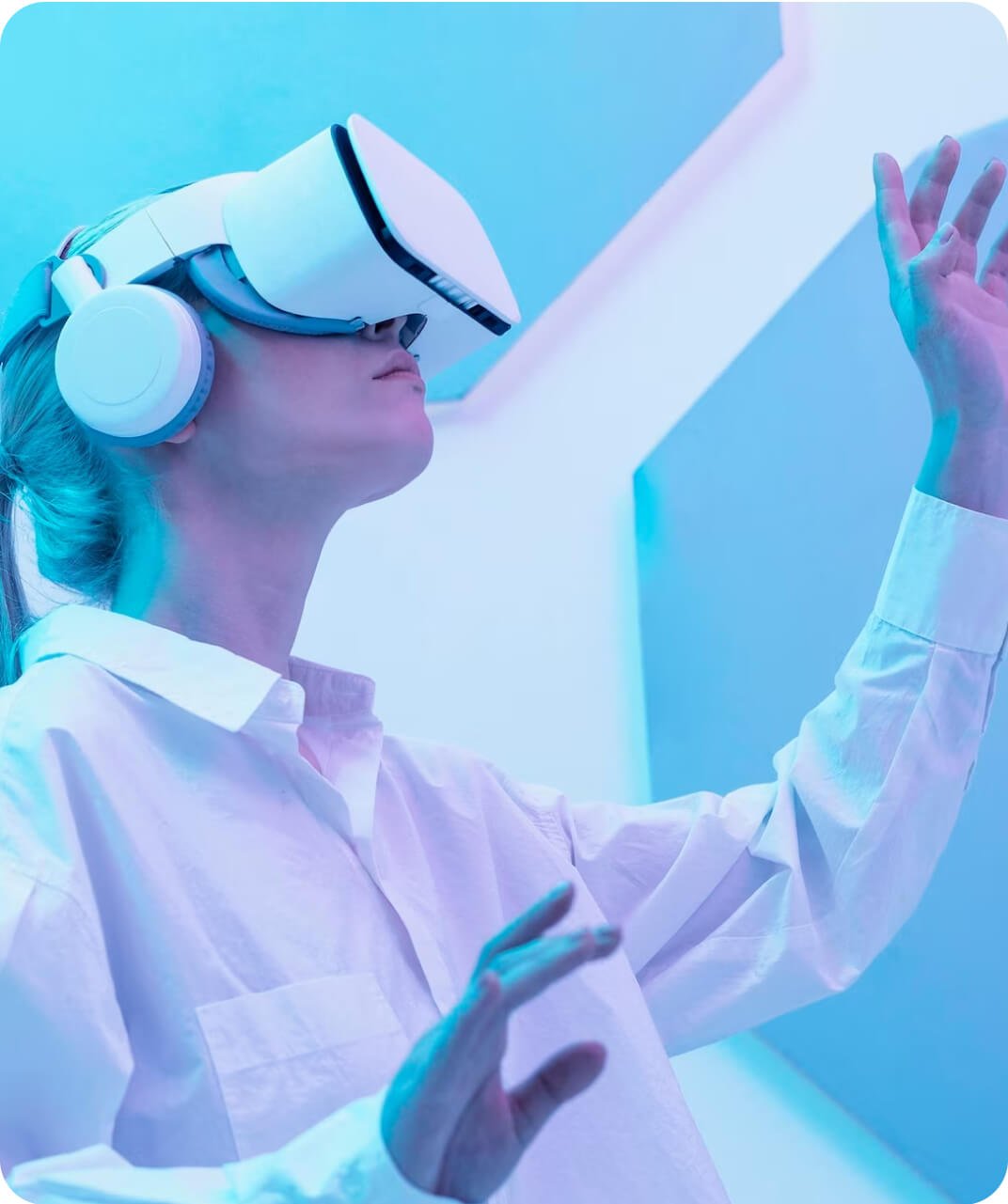 Utilize the extension bar

Install the HIX.AI Chrome extension and pin it for quick access in the extension bar. Enjoy easy, one-click access to all AI assistance.

Open the HIX.AI sidebar

Press CTRL (Windows) + P or Command (Mac) + P to open a sidebar with 120+ AI writing tools and chat support.

Access our quick lookup bar

Type // or select any text in Google Docs, social media platforms, or Gmail to show an intuitive lookup bar. Write, enhance, summarize, and respond to any text on demand.

Click the floating HIX.AI icon

Quickly tap the HIX.AI icon in the bottom-right corner to open the full sidebar, offering you quick and effortless access to HIX.AI AI writing tools and chat support.
Key
Features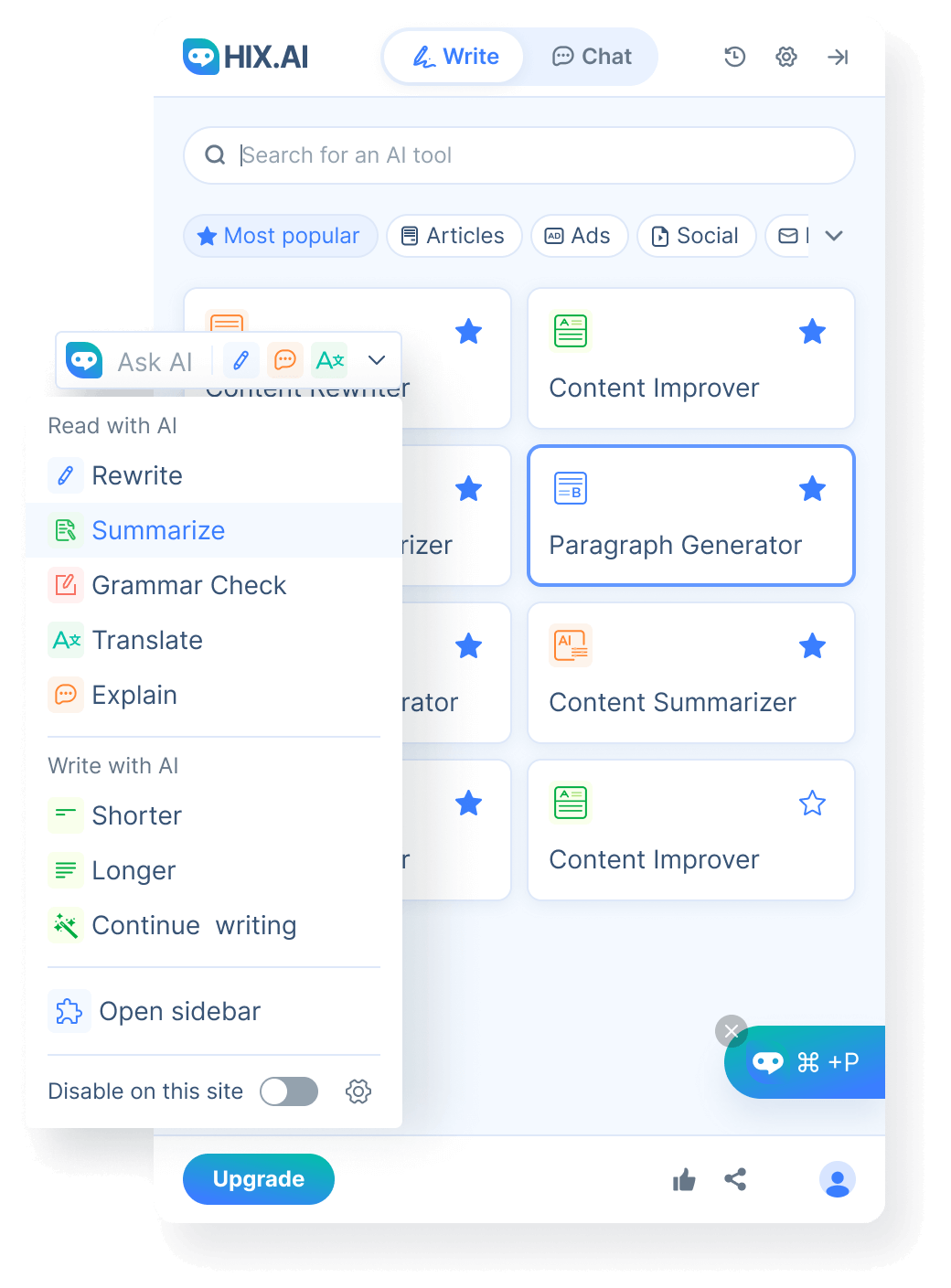 Write everything at lightning-speed like
Blog posts, Google ads, landing pages, and other copies.
Social media posts and comments.
Emails & personalized replies.
Ask AI to
Answer questions on a wide range of topics.
Create content, improve writing, and provide personalized content suggestions.
Generate images that look natural and believable to humans.
Utilize quick lookup bar to instantly
Activate Sidebar to
Utilize 120 writing tools to craft good copy in record time.

Customize your output numbers, and tones of voice, and explore other advanced options to further refine your content.

Ask our AI anything and get answers in ChatGPT-like ways.
How

Does HIX.AI Shine?
Access 30 languages

Generate original content or translate input text in up to 30 languages like English , Spanish , French , Chinese , Japanese , German , Italian , and more.

Powered by up-to-date sources

Get content and insights based on the most recent industry trends, breakthrough ideas, research papers, etc.

Provide instant results

In just seconds, generate a draft blog post, rewrite a paragraph, or get answers to complex questions.

Guarantee original copy

Get 0% plagiarism copy based on your unique requirements. Sidestep potential Google duplicate content penalties.
Why

Choose HIX.AI's ChatGPT Chrome Extension?
| | |
| --- | --- |
| 🚀 Lightning-speed Results | Craft AI content in seconds |
| 🤖 Sidebar for Added Versatility | Access real-time AI assistant |
| 🆕 Fresh Info Sources | Get up-to-date insights |
| ✏️ Instant Text Editing | Get up-to-date insights |
Install HIX.AI's All-In-One ChatGPT Chrome Extension Today
The HIX.AI Chrome extension makes AI writing assistance always within your reach. Install now.